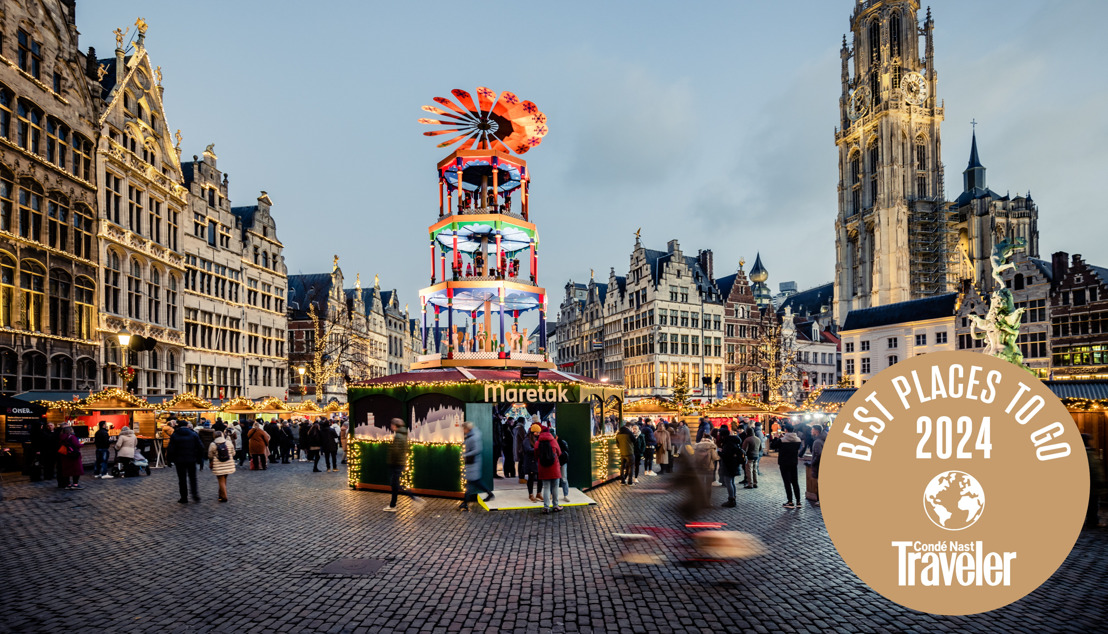 Wintertime in Antwerp
Newsletter - November 2023
Antwerp has a great deal in store for visitors and its own residents during the cosy winter months. In this newsletter, we have collected highlights, news and tips. Would you like to know more about a particular subject, are you looking for visual material or planning a trip to Antwerp? Get in touch!
---
Antwerp included in prestigious Condé Nast Traveller's 'The Best Places to Go in 2024'
The city of Antwerp has been included in 'The Best Places to Go in 2024' list from the prestigious travel magazine Condé Nast Traveller. Every year, this magazine – along with its worldwide network of editors – composes a list of the best places to visit. So now Antwerp has the honour of being among the 24 most inspiring travel destinations in the world. Condé Nast Traveller speaks highly of the world's diamond capital as a hidden jewel, with a versatile offering of cultural activities for a weekend of fun.
---
Winter in Antwerp
08.12.2023 - 07.01.2024
From Friday 8 December 2023 to Sunday 7 January 2024, the historic centre of Antwerp will be bathed in a magical atmosphere and visitors can count on the classics like the Christmas Market and the ice-skating rink, as with annual tradition. New this year is the expansion to two new locations: Hendrik Conscienceplein and Operaplein. But there is still a great deal to experience at the familiar squares. This includes the nostalgic atmosphere of an authentic Christmas Market at Grote Markt, sporting winter fun at Groenplaats and music to admire at Handschoenmarkt. Lichtjeslaan at Suikerrui will light up the whole street and is sure to make for some beautiful photos.
---
Turning Heads
Until 21 January 2024
KMSKA
Artists in the Low Countries were fascinated by the human face and often depicted it. Not only in portraits. They also painted faces where the identity of the model did not matter. Consider the grotesque head by Quinten Metsijs, the farmers' heads by Pieter Bruegel, the head studies by Peter Paul Rubens and the expressive mouths by Adriaan Brouwer and Rembrandt. These works, sometimes called 'tronies', depict not someone, but something. Not a specific person, but a type, feeling or character trait. Turning Heads explores for the first time the story behind these intriguing heads and shows them in all their variety. The project is rooted in innovative scientific research and is portrayed in a playful and accessible way. The exhibition displays an edifying selection of some sixty works, including some prestigious loans by Flemish Masters (Metsijs, Bruegel, Rubens, Van Dyck, Jordaens and Brouwer) and top international artists (Dürer, Bosch, Barocci, Rembrandt and Vermeer).
---
Rare and Indispensable | 100 masterpieces from Flemish collections
Until 25 February 2024
​MAS
Magritte, Bacon, Ensor, Moore, Jordaens and Rubens are just a few of the world-famous names on display at the MAS this autumn. The unmissable exhibition 'Rare and Indispensable' will display a unique selection of masterpieces that you would otherwise have to travel all over Flanders to see, or that are normally never accessible to the public at all. The exhibition itself is being held in honour of the 20th anniversary of the Flemish Masterpieces Decree.
---
From Scribble to Cartoon | Drawings from Bruegel to Rubens from Flemish Collections
Until 18 February 2024
​Museum Plantin-Moretus
In this exhibition, the Museum Plantin-Moretus will present the 80 finest old drawings from Flemish collections. As a whole, this will form a stunning and representative overview of how and why people drew in our region in the 16th and 17th centuries. While masterpieces from the museum's own collection form the basis of this exhibition, they will be supplemented by complementary masterpieces from other Flemish public and private collections. This will be a unique opportunity to see a number of resounding pieces side by side, such as the Rubens' sketchbook as a 12-year-old, Antoon van den Wijngaerde's 10-metre long Panorama of Zeeland and the extremely rare Italy sketchbooks of the sculptor Pieter Verbruggen. And besides big names such as Frans Floris, Pieter Bruegel, Anthony van Dyck or Jacob Jordaens, the beautiful and rarely shown sheets by lesser-known draughtsmen like Jan van Stinemolen, Hans Collaert, Pieter van Lint, Godfried Maes and Jan Erasmus Quellinus will also form a surprising discovery.
---
Beloji takes over the MoMu
Until 16 June 2024
MoMu
Baloji is a rapper, poet, fashion designer and director. He put together an exhibition based on his latest feature film Augure (Omen). Through videos, masks, clothing and installations, he shows how you can look at the culture of the contemporary Belgian and Congolese identity.
ECHO. Wrapped in Memory
Until 25 February 2024
MoMu
This new exhibition at MoMu explores the intimate bond between clothing and memory through the eyes of three artists. Artist Louise Bourgeois, designer Simone Rocha and choreographer Anne Teresa De Keersmaeker will lead you through the story of ECHO. Three women who, each in their own discipline, call up echoes from the past and interweave memories into clothing and textiles. All three are known for the tactile and emotional intensity of their work. Visitors to this exhibition will discover a range of themes there: it is about what we carry with us from our childhood and early years, about the experience of motherhood, about cherishing and restoring, about getting older and nostalgia.
---
Conversations | Contemporary and historical masters in dialogue
Until 3 March 2024
Museum Mayer van den Bergh
Contemporary artists engage in conversation with the unique collection from the nineteenth-century art lover Fritz Mayer van den Bergh. They have been inspired by Dulle Griet (also known as Mad Meg) by Pieter Bruegel, the portraits by Cornelis De Vos and Alessandro Allori, still-lifes by Antwerp masters like Daniël Seghers, works by Jacob Jordaens, Joachim Patinir and Gerard de Lairesse, etc. The applied arts so richly represented in the museum collection also receive a contemporary response. Artists including Jonathan Meese, Tal R, Ben Sledsens, Bram Demunter, Rinus Van de Velde and Dennis Tyfus are creating some new work especially for this exhibition.
The result is a dazzling exhibition where new masterpieces shine alongside their historical counterparts. And all in the atmospheric interior of the Museum Mayer van den Bergh.
---
Come and discover it all for yourself in Antwerp! Contact us:
Website | Instagram | Facebook |Linkedin
Copyright header: Lucid